E
xplore the world, master every challenge at the GS, and show your team spirit: The International
GS Trophy
is an incomparable and challenging motorcycle adventure. More than a dozen teams from all over the world are meeting again in 2020. The riders are in for a treat as this year's venue is New Zealand. There the participants will have the opportunity to experience a unique and once-in-a-lifetime event.
New Zealand: Enduro fun every step of the way.
It's not just the perfect film backdrop for famous fantasy films, it's also the ideal terrain for the International GS Trophy 2020: In New Zealand, rainforest meets glaciers, stepp-like flora meets subtropical flora. The island is characterized by high plateaus and mountain peaks with heights of well over 3000 meters as well as fjord landscapes, countless uplands and woodlands – the best conditions for exciting trails and gruelling challenges. Wherever the trail may go: Every meter is packed with pure enduro fun.
The
GS Trophy

bike.

The F 850 GS is made to push the boundaries and discover the unknown. Thanks to the two-cylinder in-line engine with 70 kW (95 hp), Int. GS Trophy riders have a robust powerhouse that will win over any terrain. The high torque and lively nature of the F 850 GS turn obstacles into exciting challenges. What's more: The special GS Trophy decal makes this bike a real eye-catcher in New Zealand.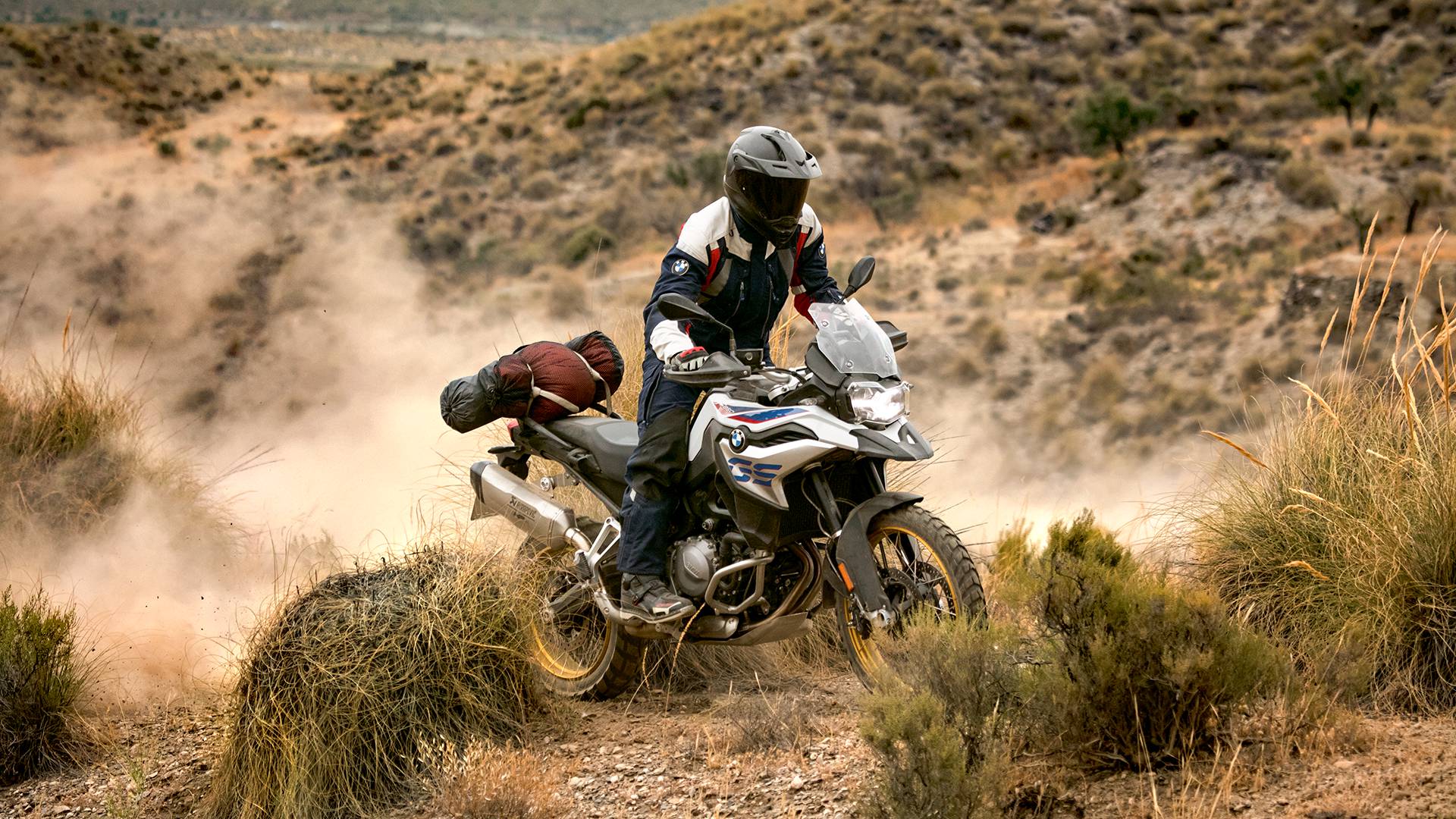 First national, then international.
Rides through mud and water, navigation exercises and knowledge questions: This awaits you as hobby rider and owner of a GS from BMW Motorrad at the national Qualifier – the first challenge on your way to the International GS Trophy. You can also take part in the national qualifier if you are a passionate female endurance star. If you make it into the top three, you will automatically have a place on the national team. The two best women from the national qualifier secure their starting place in the qualifier for the international Female Team.
Unique experiences.
The Int. GS Trophy is not a rally or a race; it focuses mainly on team spirit as well as skills that are tested in various ways. Sleeping in a tent and getting to know a new environment and culture as well as making new friends from around the world, these are the unforgettable experiences of the International GS Trophy, that BMW Motorrad hosts every two years­ for real offroad experts.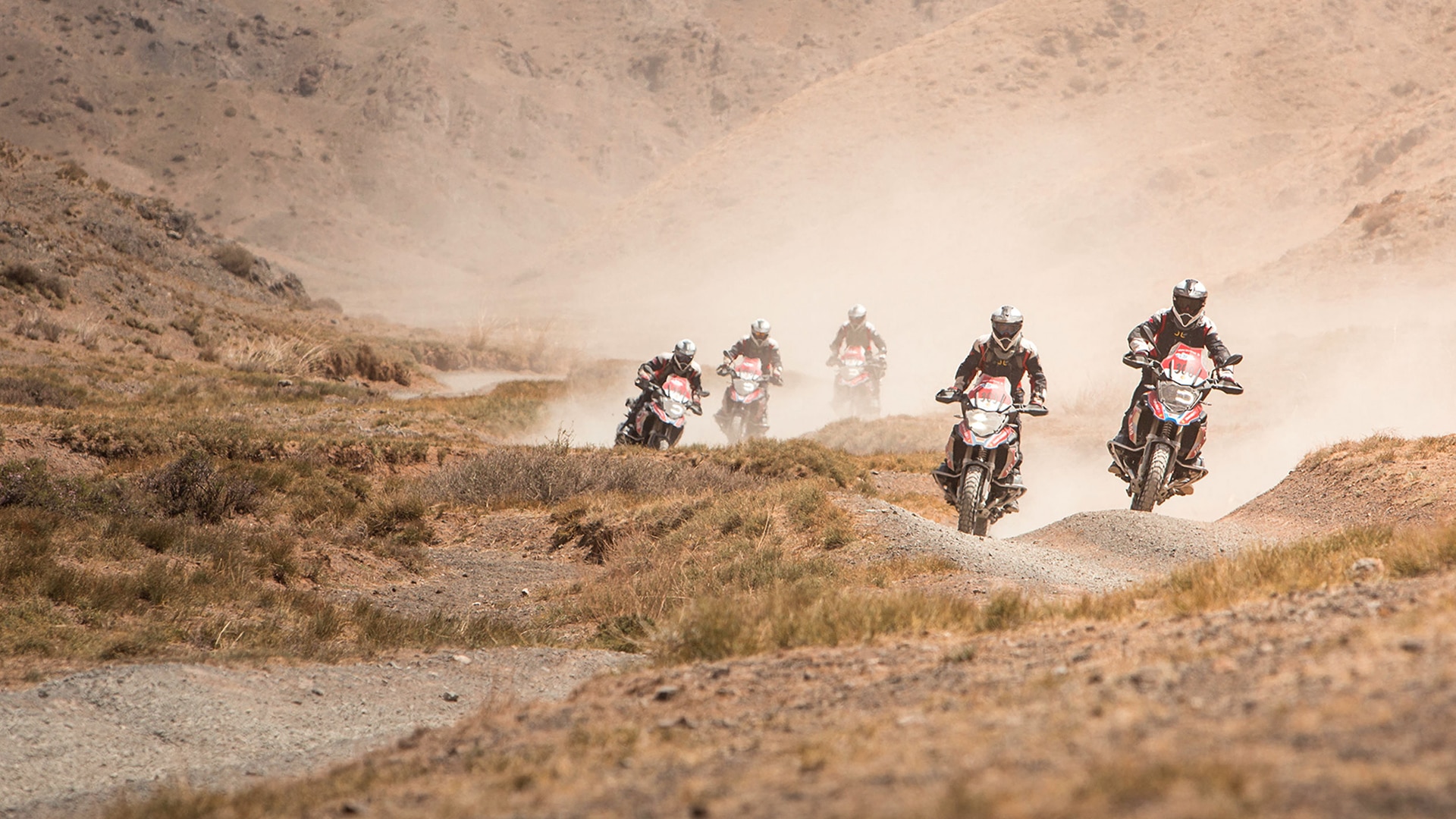 Eight unforgettable days.
Riders took on every difficult challenge they came up against for eight days at the International GS Trophy 2018 in Mongolia. 18 teams from 21 countries qualified for the sixth edition of the motorbike adventure and rode 2400 kilometres over gravel, sand, and stone. Here you can read about the participants' unforgettable moments and how they made new friends.
Hall of Fame.
BMW Motorrad has been hosting the great enduro extravaganza since 2008. So far, participants have ridden through Tunisia, South Africa, Patagonia, Canada, Thailand, and Mongolia. Five teams started at the first GS Trophy, now a total of 18 teams take part. For a little adrenaline kick up front: You can find a list of all previous riders in the Hall of Fame. Is your country there?
The bike of the Int. GS Trophy 2020.
T
he extreme adventure of the International GS Trophy 2020 in New Zealand is very demanding on its participants. They will not be able to overcome those challenges alone. They will master these challenges on the BMW F 850 GS – a motorcycle made for rough terrain. One that travels with them over dusty pistes, explores unknown paths, and takes tight turns. This all-rounder is equipped as standard with a powerful twin-cylinder inline engine and 850 ccm for offroad use. With the 21" front wheels the participants conquer the rain forest, stony paths or step-like vegetation. Its easy handling mean participants will find every hurdle a breeze, enabling them to meet the demands of the route.
Equipped to handle every task of the GS Trophy and conquer any terrain: the bike is equipped with Original BMW Motorrad accessories for the special conditions in New Zealand. We present you a selection of the installed accessories so that you can convert your own GS into a true GS Trophy bike.
F 850 GS Adventure Highlights
The high-end titanium-clad silencer delivers an impressively rich sound and is a clear avowal to racing, both visually and acoustically. The high-quality slip-on model offers a weight saving of approx. 2.3 kg compared to the standard model thanks to its lightweight design.

The higher Rallye seat impresses thanks to its great ground accessibility, particularly hard padding for off-road use and striking Enduro appearance. With a volume of 2.5 to 8 liters, the bag for the pillion seat provides enough storage space for daily trips to work or day trips.

The set, consisting of Enduro footrests, a height-adjustable foot brake lever and a gearshift lever with adjustable kick lever, can be adapted to individual needs. When suitably adjusted, the foot levers can be optimally operated or regulated and allow even better vehicle control especially when riding off-road in a standing position.

The hand protector, made of impact-resistant and UV-resistant plastic, also protects the operating elements against branches and stone chips while riding off-road, and is aerodynamically tailored to the vehicle. On the road, the wind and weather protection offered by the protectors is also impressive: hands and fingers stay longer dry and warm even at low temperatures.

The high handlebars are 14 mm higher than the standard handlebars. This not only enables an upright and comfortable sitting position, but also makes riding while standing particularly comfortable. Secure handling of the motorcycle is noticeably easier (particularly in the standing position) – an indispensable advantage for Enduro riders.

The electropolished stainless steel engine protection bar provides effective protection for the engine housing without compromising the lean angle. This sturdy Enduro aluminium engine guard was specially constructed for off-road use and provides optimal protection for the lower section of the engine.

The powerful LED additional headlights in a compact aluminium housing ensure better vision and visibility even in fog, rain or snowfall. At the same time, their white, daylight-like light colour ensures differentiated illumination of the road. LED technology ensures virtually wear-free operation.